Overview
In a rapidly changing world you have to be agile. The ability to adapt your organization, processes and systems has never been more important. The pandemic, global logistics challenges and the energy crisis have proven this. We help you become more flexible than ever. With analyzes and advice. And with SAP Business Technology Platform, a well-stocked digital toolbox for innovation and transformation.

SAP Business Technology Platform

SAP BTP consists of innovative and technically driven components that together in one platform gives your organization the opportunity to realize your growth objectives and to respond quickly to changes. The platform is indispensable for the future of your organization to make the company more successful, flexible and resilient based on a good roadmap. This strategy must therefore also be embraced in the boardroom of a company.
The impact that a company can realize with the right implementation of innovative technologies from SAP BTP, can be greater and create more value than the implementation of the ERP system a few years ago.
Do you want more information on SAP BTP?
Contact us
SAP BTP, your route to the Intelligent Enterprise
SAP BTP provides applications for the
Intelligent Enterprise
to digitize faster and smarter across company walls. It supports processes that run partly in the cloud and partly in the company itself. The platform provides a secure environment where dozens of innovative services, such as Artificial Intelligence, IoT, Machine Learning, Robotics and Predictive Analytics, are ready to be deployed with hundreds of out-of-the-box integrations for SAP and third-party applications.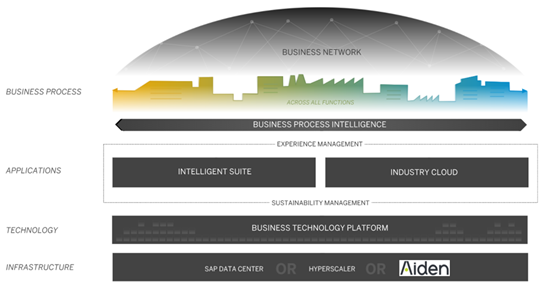 SAP Business Technology Platform
Getting maximum value from data
Digital transformation is crucial for flexibility and sustainability. Data plays an indispensable role in this. With SAP BTP you convert data into analyzes that provide real added value. BTP brings together all kinds of data streams from SAP and other sources. The business context of all data that comes together there is preserved. As a result, you can effortlessly use this data to create in-depth insights.
The Next Step
Depending on your situation and your ambition, certain possibilities of SAP BTP are more or less interesting for your organization. Would you like to know more about the possibilities of BTP? Or do you have SAP BTP and would you like to further explore the possibilities to get even more out of the system? Then you've come to the right place at Aiden. Our experts combine knowledge of your business and your processes with an in-depth understanding of the many possibilities SAP BTP has to offer.
Benefits of SAP BTP
01.

Accomplish complex integrations
Create complex integrations between your systems and just about any other solution.
02.

Expand your system landscape
Expand your system landscape with innovative apps and extensions.
03.

Unlocking the value of data
Unlocking the value of data in various ways.